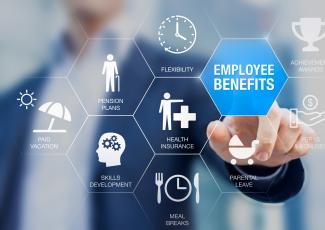 Designing an Irresistible Compensation Package: Key Benefits to Attract Top Talent
Introduction:
In today's competitive job market, attracting and retaining top talent requires more than just a competitive salary. Job seekers are increasingly prioritizing comprehensive compensation packages that go beyond monetary rewards. To secure and engage exceptional employees, employers must carefully craft a benefits program that aligns with the needs and expectations of today's workforce. This article explores the specific benefits that employers should consider offering as part of their compensation packages to attract and retain high-quality employees.
Health and Wellness Benefits:
Providing robust health and wellness benefits is crucial for attracting top talent. Comprehensive medical, dental, and vision insurance coverage demonstrates your commitment to the well-being of your employees and their families. Additionally, offering wellness programs, such as gym memberships, on-site fitness classes, or mental health resources, shows that you prioritize employee wellness and work-life balance.
Retirement Plans:
A competitive retirement plan is an essential component of a compelling compensation package. Offering a 401(k) or similar retirement savings plan, along with matching contributions, not only helps employees build a secure financial future but also signals a commitment to their long-term well-being. Providing access to financial planning resources can further enhance the value of the retirement benefits package.
Flexible Work Arrangements:
Flexible work arrangements have become increasingly important to job seekers. Whether it's remote work options, flexible hours, or compressed workweeks, providing flexibility demonstrates trust and understanding of employees' diverse needs. This benefit can improve work-life balance, increase productivity, and attract candidates seeking a better integration of their personal and professional lives.
Paid Time Off and Leave Policies:
Generous paid time off (PTO) and leave policies are highly valued by employees. Offering competitive vacation, sick leave, and parental leave benefits enables employees to recharge, maintain a healthy work-life balance, and support their personal and family obligations. A compassionate and supportive approach to time off fosters employee loyalty and improves overall job satisfaction.
Professional Development and Training:
Investing in employee growth and development is a compelling benefit that attracts high-caliber talent. Offering opportunities for professional development, such as workshops, conferences, certifications, or tuition reimbursement, demonstrates a commitment to employee growth and career advancement. These initiatives not only attract ambitious candidates but also contribute to the overall skill development of the workforce.
Employee Recognition and Rewards:
Recognition programs and rewards play a vital role in attracting and retaining top performers. Recognizing employees' contributions through regular feedback, performance bonuses, and incentive programs motivates them to excel and feel valued within the organization. Personalized recognition tailored to individual preferences can create a positive and engaging work environment that fosters loyalty and commitment.
Work-Life Integration Support:
Providing support services that address employees' personal needs enhances the attractiveness of a compensation package. Services such as employee assistance programs (EAPs), childcare assistance, eldercare support, or access to legal and financial advice demonstrate a commitment to employees' well-being beyond the workplace. These benefits assist employees in managing their personal obligations effectively, contributing to their overall job satisfaction and engagement.
Employee Stock Ownership Plans (ESOPs) or Equity Options:
Equity-based compensation, such as employee stock ownership plans (ESOPs) or stock options, can be highly appealing to candidates who seek a sense of ownership and long-term commitment. These programs provide employees with the opportunity to share in the success and growth of the company, aligning their interests with those of the organization. Equity-based compensation can be a significant differentiator in attracting top talent, particularly in competitive industries.
In the quest to attract and retain exceptional employees, a well-crafted compensation package that goes beyond salary is essential. By offering a range of benefits such as health and wellness programs, retirement plans, flexible work arrangements, paid time off and leave policies, professional development opportunities, recognition and rewards programs, work-life integration support, and equity-based compensation, employers can create a compelling package that appeals to top talent. By understanding and meeting the evolving needs and expectations of the workforce, businesses can gain a competitive edge in attracting, engaging, and retaining the best employees, fostering a positive and thriving work environment.
Ready to explore more? Reach out now for personalized solutions, in-depth insights and customization to your specific needs. Contact me directly at mgoldenberg@afinwealth.com to start the process.
Let's start your journey to success today!
Michael Goldenberg, CFP® 
CEO/Co-Founder, Senior Financial Advisor 
AFIN Family Wealth Management 
1220 Kensington Rd, Suite 220, Oak Brook, IL 60523 
C: 630-230-1038     F: 630-686-1467 Office: 630-686-1463
Securities and insurance products are offered through Cetera Investment Services LLC (doing insurance business in CA as CFGIS Insurance Agency), member FINRA/SIPC. Advisory services are offered through Cetera Investment Advisers LLC. Neither firm is affiliated with the financial institution where investment services are offered. Advisory services are only offered by Investment Adviser Representatives. Investments are: *Not FDIC/NCUSIF insured *May lose value *Not financial institution guaranteed *Not a deposit *Not insured by any federal government agency.  
Confidential: This email and any files transmitted with it are confidential, and are intended solely for the use of the individual or entity to whom this email is addressed. If you are not one of the named recipient(s) or otherwise have reason to believe that you have received this message in error, please notify the sender and delete this message immediately from your computer. Any other use, retention, dissemination, forward, printing, or copying of this message is strictly prohibited.